BUZZ – DIGITAL O.R.
CENTRALIZED INFORMATION HUB
Buzz, the next generation of O.R. integration with intuitive multi-touch user interface and future-proof design
Play Video
O.R. Information and Control Center
Buzz, the next generation operating room integration platform, is a network-based central information hub that routes, displays, interacts, streams, records and enhances medical images, software content and videos. Designed as an open platform with minimal footprint and practical touch interface, Buzz is prepped for every O.R.
· Displays and controls data and video sources centrally on a user-friendly interface
· Enables network-based routing of video and software content on multiple displays
· Allows for audio/video conferencing and streaming
· Integrates HIS and PACS for easy data handling and documentation
· Enables surgical planning with Brainlab Elements, such as Viewer, SmartBrush, Image Fusion, Dose Review, and more
· Integrates multiple 3rd party software through open platform architecture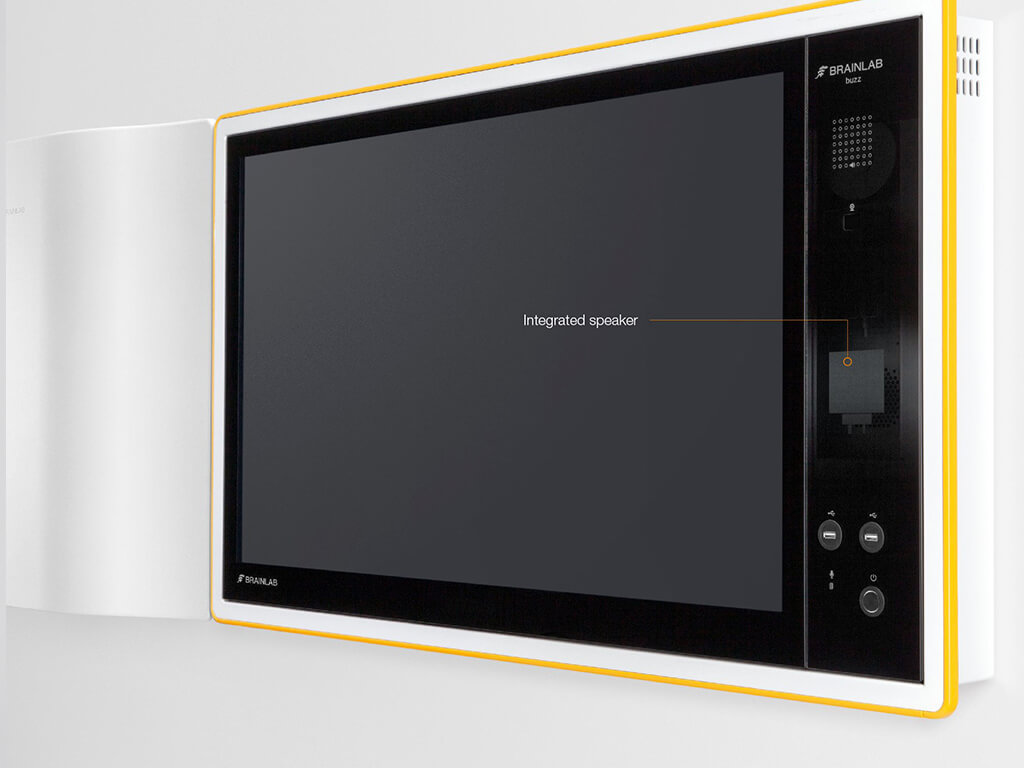 ROBUST HARDWARE
With state-of-the-art hardware components, Buzz is built to be a long-lasting mainstay in the operating room. Its durable yet sensitive glass front panel makes communication and utilization in the O.R. easy and clear.
· High resistance to water and dust for durability and easy maintenance (IP44)*
· Audio and video components optimized for clear sound and picture
· Responsive and accurate touch control on 42" display
· Frontward folding, swiveling display for easy service access
· Multi-touch based features like drag and drop, zooming and panning allow for easy device operation
Flexible SETUP
With two versatile hardware configurations, flexible integration possibilities, and simple mounting, Buzz can be easily installed in both newly constructed and existing operating rooms.
· Recessed In-Wall or mounted On-Wall, both configurations are adaptable to hospital needs
· Separate compact 4RU computer located inside or outside O.R. facilitates optimal space-usage
· Network-based integration of hardware and video sources ensures an uncluttered O.R. setup with minimal hardware footprint
· Multiple connection ports (USB 2.0 & 3.0, DP, HD-SDI, Network) enable simple data transfer and device connectivity
· Buzz usable from sterile field with Wi-Fi-based remote control
future-proof platform
Beyond durable hardware components and flexible setup possibilities, at the core of Buzz is speed and performance. Our purpose is to support the surgeon in their daily routine, enabling them to focus on the patient and the procedure.
· Fast system boot-up facilitates smooth O.R. workflows
· State-of-the-art computer components ensure fast data transfer and technological longevity*
· Multiple hardware connection possibilities due to standard interfaces
· 3rd party software can be integrated, displayed and controlled through Buzz
· Various O.R. workflows can be consolidated on one single source, minimizing the number of interfaces in the O.R.