CURVE
The Ultimate Control and information Center
Curve Image Guided Surgery challenges conventional navigation utility. Smart ergonomics, multi-directional 27″ touch terminals, intelligent software, full HD, hi-fi and appealing design provide a unique surgical navigation experience.
Play Video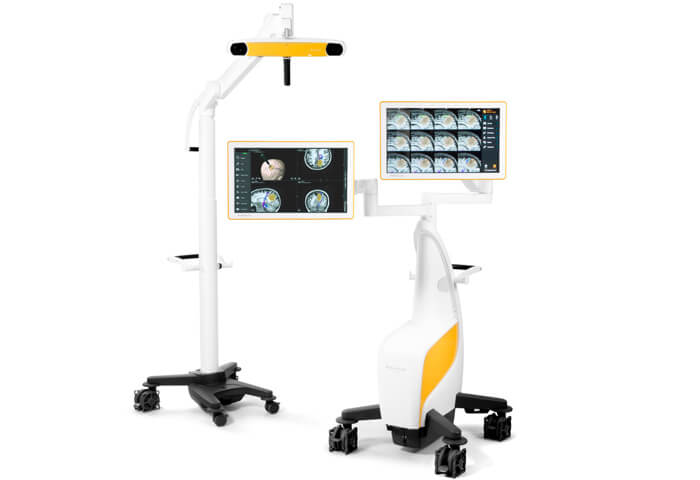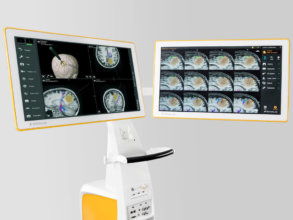 LARGER SCREENS FOR ENHANCED INFORMATION
Curve™ Image Guided Surgery optimizes navigation with pre-op planning and surgical visualization. Surgeons are guided by images from multiple views helping increase decision-making confidence.
· Two 27" touch monitors with 16:9 screen ratio provide more space to display and efficiently organize information
· Capacitive touch technology decreases display deterioration, enhances 3D software images and produces higher contrast for crystal clear tissue differentiation
· 1920 x 1080 pixels per display for 2D and 3D images offer more anatomical detail in full HD
· Latest image guidance software powers advanced 3D displays and hallmark Brainlab image enrichment
· Shifts easily between applications with a touch of the virtual 'Home' button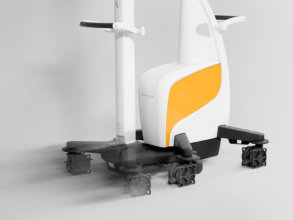 LOADED FUNCTIONALITY WITH ERGONOMIC DESIGn
Curve Image Guided Surgery is packed with small features that add up to big performance. The centralized 'Start' screen – accessible at any time via the virtual 'Home' button – makes launching software applications and displaying contents a breeze with drag-and-drop functionality.
· Separate monitor and camera carts effortlessly dock together for easy moving and parking while fitting user needs perfectly with optimized usability and quick setup and tear down
· Mobile, wireless¹ networking lets surgeons stream and record to linked workstations
· Built-in high fidelity music dock allows surgeons to navigate to their own soundtrack
· Eight separately moving and braking wheels maneuver easily around cables and over door jams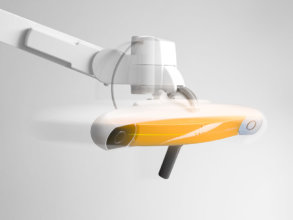 ROBOTIC CAMERA ADJUSTMENT
Curve Image Guided Surgery adapts to virtually any operating room setup for almost any navigated surgical intervention with its independent camera stand. The motorized telescopic camera height adjustment spans from as low as 67 cm (26.37″) to as high as 254 cm (100″).
· High setup flexibility for supine patient positioning and spine surgeries
· Extra low camera position to support cranial cases with prone patient positioning
· 300 cm (118") extended camera tracking volume broadens setup options without compromising patient registration
· Convenient laser pointer located in the camera head offers optimal orientation and positioning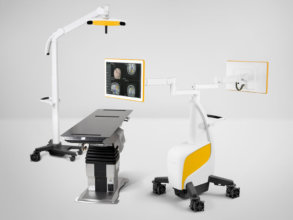 FLEXIBLE SURGICAL SETUP
Surgeons and O.R. staff are free to control the operating room setup with multiple variations, including sterile and non-sterile configurations.
Smart ergonomics and docking mechanism, combined with an appealing design makes Curve transportation easy and storage the last thing on anyone's mind.
·
Surgeon and non-sterile staff operate Curve at the same time, increasing efficiency and streamlining workflows
·
Surgeon controls both Curve monitors for navigating, streaming and recording while benefitting from space-saving footprint
·
Surgeon uses one Curve monitor as 'cockpit' for changing settings while the second monitor, placed over the patient, serves as a view-only image guidance monitor
·
Surgeon and sterile nurse each operate a Curve monitor for dual control and flexibility inside the sterile field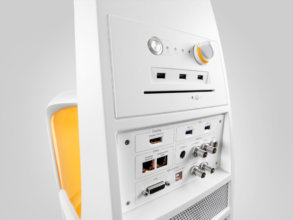 POWERFUL PLUG & PLAY CONNECTIVITY
The all-in-one smart hub connects to the outside world and rapidly integrates third party surgical devices. Curve functions as a flexible information gateway, allowing physicians to view, share and connect both inside and outside the operating room.
·
Direct DICOM patient data transfer to and from 5x USB, CD/DVD±R and hospital network
·
Network port for connection to Airo® Mobile Intraoperative CT and C-arm
·
Digital and analog video-in and digital video-out to connect an independent display (DisplayPort 1.2 (up to full HD 3D, 4K, DVI-I out)
·
Universal microscope-in for multiple vendors
·
WLAN¹ module to transfer patient data or to connect to 'Brainlab O.R. web portal'